"And so, Xenon Elite Researchers Regarding Destruction became Xenon Elite Researchers Regarding Dinosaurs. Applying the Maelstrom that they had studied for years, the organization's greatest scientists, including Dr. Matthew Cyrista, created the Mutant Dinosaurs. By April, we were ready to unleash our creations upon the world."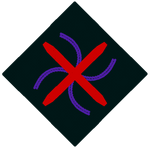 Xenon Elite Researchers Regarding Destruction, known as Xenon Elite Researchers Regarding Dinosaurs during the Dino Attack and commonly abbreviated as XERRD, is an organization formed by Dr. Rex. It consists largely of scientists, many of which are former members of Paradox, and is most well-known for being the cause of the Dino Attack.
Formation
Edit
During his years with Paradox, Dr. Rex felt there was something more he could do than simply serve the Nexus Force as just another Space Marauder. He decided to gather the highest-ranking and most scientifically-capable members of Paradox he could find, then propose breaking off from Paradox and forming his own organization, which would go farther into the wilderness of science than even Paradox would dare.
In 2009, Dr. Rex made his proposals. Most people he approached accepted his offer to join a new organization of scientists and researchers. Before leaving Nimbus System, they traveled to Crux Prime and contained a large concentration of Maelstrom energy from the ruins of the Nexus Temple in a crystal so they may continue to study the Maelstrom outside of Nimbus System. With fellow scientists Wallace Bishop and Michelle Glados at his side, Dr. Rex finally defected from Paradox and returned to LEGO Planet with his followers using a large spacecraft they constructed, christened the New Age.
During the flight, they held a contest aboard the New Age to name their new organization. Dr. Rex himself won the contest with the name "Xenon Elite Researchers Regarding Destruction". They also drew up the organization's emblem, a red X from the organization's name over the symbol of the Maelstrom.
Upon the return to LEGO Planet, XERRD constructed a headquarters in the Arctic, where for the most part they operated in secret. Few other organizations were aware of XERRD's organization, though XERRD had dealings with Alpha Team and UlTech Industries. During this time, XERRD's main goal was research and development into destructive forces such as the Maelstrom, as well as scientific and technological advancements in general.
At one point, XERRD brought the Maelstrom Crystal to a Temple of Creation on Adventurers' Island to study its power. However, the volatile crystal reacted violently with the Imagination in the temple and corrupted it, tainting the Temple of Creation with its dark energies and opening a miniature Maelstrom vortex in the temple's main chamber. Hoping to contain the Maelstrom before it grew too powerful, XERRD locked away the Maelstrom Crystal in a pyramid in the Adventurers' Island desert.
In late 2009, one dealing with Alpha Team allowed Dr. Rex to access his old files from his time as an Alpha Team agent. Among them, he discovered Evil Ogel's formula for the creation of mutant dinosaurs. While it was not the file he intended to find, he took it back to headquarters to examine with XERRD's technology.
Dino Attack
Edit
XERRD established a laboratory on Dinosaur Island, as well as other bases in other parts of the globe. They tested Ogel's formula on four subjects they captured from Dinosaur Island and Adventurers' Island, creating the first Mutant Dinos.
In early 2010, Baron Typhonus covertly manipulated Dr. Rex and, shortly afterward, the rest of XERRD into helping the Maelstrom become more powerful. The entire organization, it seemed, became bent upon "cleansing" the LEGO Planet of the corruption of the minifig species by promoting Survival of the Fittest, and the scientists thought that it was their duty to help fate in its course. Therefore, their goal became to create an army of Mutant Dinos to destroy Minifig civilization and create a new world.
With this changed goal, the organization decided to alter its own name. From then on, XERRD would stand for "Xenon Elite Researchers Regarding Dinosaurs". Destroying their Arctic headquarters, they moved their main headquarters to the Dino Island Laboratory.
Since Dr. Rex was dissatisfied with Ogel's old formula, a new method for mutating dinosaurs was developed by Wallace Bishop and Matthew Cyrista, which involved tapping into the energies of the Maelstrom itself. A XERRD fortress was built on Adventurers' Island, where Maelstrom energies were collected from the corrupted Temple of Creation. The Maelstrom allowed future generations of Mutant Dinos to possess incredible powers, ranging from breathing fire to laser vision.
In preparation for the Dino Attack, XERRD carved out a tunnel from Dinosaur Island to LEGO City, hid spy cameras around the city, built teleport pads to spread Mutant Dinos across the globe, and formed alliances with villains such as Dr. Inferno and Señor Palomar. They also hired teams of hunters who would capture dinosaurs for mutation.
At last, XERRD sent out its Mutant Dino army to wreak havoc and destruction across the planet. Initially, the operation was a success, though had several unexpected failures, such as the evacuation of Minifig populations to Antarctica and the creation of the Dino Attack Team. As the year went on, XERRD secretly waged war against the Dino Attack Team, keeping its existence a secret while continuing to capture and mutate dinosaurs. XERRD even placed two moles in Dino Attack Team; however, the first became devoted to the Dino Attack cause thanks to the intervention of Frank Einstein, who had been previously assigned by Nexus Force to keep tabs on XERRD.
Shortly after the beginning of the Dino Attack, there was a massive explosion in the Dino Island Laboratory while XERRD inventors were creating a top-secret Creative Spark-switching device. Frank Einstein heard about the explosion and assumed that XERRD had been disbanded. Despite the damage and casualties, XERRD quickly recovered and expanded the laboratory.
XERRD also had a research division known as ESG, which was focused upon creating enhanced Mutant Dinos. With the exception of its higher-ranking members, ESG was kept largely in the dark about XERRD's motives. When Cobra accidentally stumbled upon the truth, he had his memory wiped. Upon regaining his memory, Cobra led a group of Dino Attack agents to ESG's main laboratory. Although ESG's guards put up a strong fight, ESG was ultimately defeated. However, Dino Attack Team was unable to learn that ESG was working for XERRD.
XERRD was first discovered by Dino Attack Team when a successful operation to Dinosaur Island revealed the existence of the Dino Island Laboratory and confirmed Dr. Rex's role in the Dino Attack. XERRD also faced problems when the mesozoic morphing monsters attacked their main base, though allowed the Minifig/Mutant Lizard Hybrids to form a false alliance with Dino Attack Team.
Due to XERRD's alliance with Dr. Inferno, it was able to keep a close eye on the Dino Attack Team's Goo Caverns campaign. During the LEGO Island campaign, the Dino Attack Team battled XERRD operatives in their secret LEGO Island Laboratory, which was overseen by the Brickspider Bot v1.0.
Unfortunately, XERRD felt the Maelstrom slipping out of its grasp. After Brickster-Bots and FMB-Bots invaded Dinosaur Island and continuously harassed XERRD through guerrilla warfare, Dr. Rex decided to send XERRD's highest-ranking operatives, such as Dr. Bishop and Dr. Glados, to the XERRD Fortress at Adventurers' Island to secure the Maelstrom Temple.
At this fortress, XERRD scientists and guards fought against an invading group of Dino Attack agents, during which they employed the base's defenses such as neurotoxins. When Dino Attack grew too successful, Señor Palomar ordered Skeleton Mummies to overtake the fortress and kill anyone inside, in order to prevent Dino Attack Team from getting control of the fortress. Many XERRD scientists and guards were killed during this struggle, though numerous scientists escaped and journeyed to the Maelstrom Temple.
There, they battled a small group of Dino Attack agents until Wallace Bishop revealed that he was actually Frank Einstein in disguise. With Michelle Glados and Carolyne Provencal taking command, they continued the battle as Dino Attack reinforcements arrived. The fight was halted when Sam Sinister brought the Maelstrom Crystal into the temple, allowing Baron Typhonus to reveal himself to XERRD and the Dino Attack Team, at which point there were only seventeen survivors remaining of XERRD's Adventurers' Island operations. While Glados and Provencal stayed behind to secure the Maelstrom Crystal, the remaining fifteen survivors were led out of the chamber by Dr. Cyborg, where five of them surrendered to Dino Attack Team.
Meanwhile, on Dinosaur Island, the Brickster ended the guerrilla war by blowing up the Dino Island Laboratory. XERRD suffered heavy casualties due to this, and its surviving members were forced to retreat and fall back to an outpost in the Goo Caverns. There, Dr. Rex learned about the results of the Adventurers' Island mission and vowed to destroy the Dino Attack Team on December 21, 2010. Although most of XERRD believed that Dr. Rex had finally gone mad, they were too afraid to question him, and so fought alongside him during the attack on LEGO City.
After Dr. Rex's apparent defeat by Adventure and subsequent possession by the Maelstrom, he was deemed unfit to lead XERRD any longer. Michelle Glados, being the next XERRD member in line, became the de facto leader of XERRD. Semick offered XERRD a chance to surrender, but Glados ordered her fellow scientists to keep fighting, believing that studying the apocalypse after the fall of Dino Attack Team would give XERRD a newer and greater purpose. Shortly afterward, Dr. Glados was killed by Trouble, prompting Blaire Darkling to assert himself as XERRD's current leader and promote Dr. Cyborg to his second-in-command.
Under Blaire Darkling's command, XERRD officially formed a truce with Dino Attack Team, with Darkling hoping to redeem the organization of Baron Typhonus's corruption. However, this truce broke XERRD's alliances with Dr. Inferno and Willa the Witch, and Baron Typhonus turned the remaining Minifig/Mutant Lizard Hybrids against XERRD. After Blaire Darkling killed his old rival Kareem Nazareno, he relinquished command of XERRD, and Dr. Cyborg became the de facto leader. XERRD delayed the Mutant Dino force from reaching the Dino Attack Headquarters long enough for Dr. Cyborg and the other Elite agents to finish the Einstein Device. After the battle, XERRD captured and/or killed the few Mutant Dinos who escaped the blast.
XERRD's future remains uncertain. Dr. Cyborg wishes for the organization to return to Paradox to once again use their Maelstrom studies to aid the Nexus Force. However, many survivors of the Dino Attack wish to see XERRD's members put on trial for the various war crimes they committed.
A few months after the war, a capital ship was built for XERRD and they left the LEGO Planet to rejoin and assist Nexus Force, and also to allow tempers on the LEGO Planet regarding XERRD to cool off.
The name "Xenon Elite Researchers Regarding Destruction" was coined by Dr. Rex during the flight back to LEGO Planet. It was chosen for being the most fitting name which described nearly every aspect of the organization.
Notable Members
Edit